Installing sensors and maintaining networks
We are committed to ensuring the reliable performance of your network over the long term. We install, calibrate, monitor and maintain sensors all over North America. Service contracts can be tailored to the needs of your project.
Database services

We offer customized database services to support dynamic data retrieval and archiving needs. A Hydroinnova maintained MySQL database can seamlessly integrate with customer IT operations or accessed through Hydroinnova Web Services.
Whether you need to access your data in real time via the web, track frequently relocated sensors, or improve your internal data management capabilities, our database technicians will gladly support you.
Web services
Data from Hydroinnova sensors can easily be accessed via the web as near real-time plots or text. Please contact us to learn more about web portal options.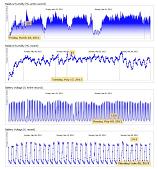 Example of near real-time data retrieval